Lancaster Employment Lawyer
Nosratilaw, A Professional Law Corporation, is a highly reputable employment law firm serving the hard-working families of Lancaster and the rest of the greater Los Angeles area. Our successful team of highly skilled Lancaster employment lawyers, well-trained paralegal support staff, and network of powerful resources are dedicated to providing the working people of Lancaster and Los Angeles exceptional, totally personalized legal representation for all types of work-related legal issues.
If you are an employee who has been wronged at the workplace in some way, and believe (or simply wonder if) you may have a legally actionable case, please contact Nosratilaw, A Professional Law Corporation, at your earliest possible convenience for a no-pressure consultation. We can discuss your circumstances and give you a chance to get to know our firm, then begin providing you with knowledgeable legal guidance and powerful advocacy. We can remain proactive and readily available to you as we undertake the process of turning your claim into meaningful compensation.
Do not hesitate to reach out to our Los Angeles offices if you have any type of workplace issue. Whether you are dealing with workplace harassment, racial discrimination, unsafe conditions, or serious regulatory violations, our team is here to protect your rights and pursue the compensation you deserve.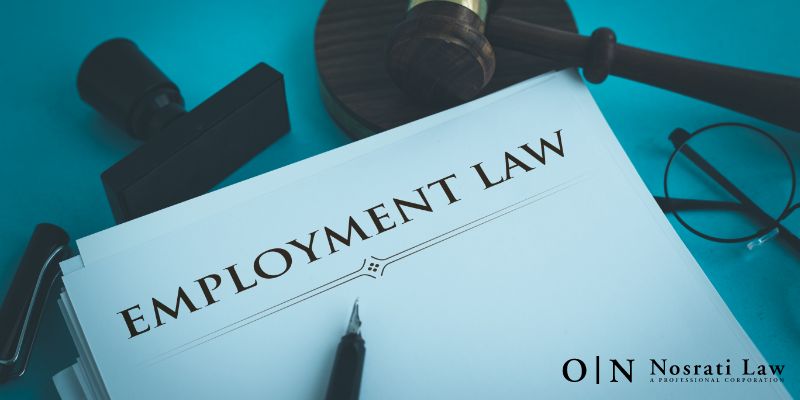 The Value of a Qualified Lancaster Employment Attorney
When you encounter serious issues related to your employment situation or career, having the support of a knowledgeable Lancaster employment lawyer with a record of success can prove invaluable. Hiring quality legal counsel can help ensure that all documents are filed correctly and on time. They can also expedite your case through the courts to whatever extent possible. A high-quality employment lawyer, such as those available at Nosratilaw, A Professional Law Corporation, can work tirelessly to steer your claim toward a fair and positive outcome–which means sufficient compensation for you and your family.
Here are a few of the ways a Lancaster employment attorney can prove useful to an employee with a legal concern:
Legal advice and end-to-end guidance – Our Lancaster employment lawyers possess comprehensive knowledge of all relevant federal and state employment laws, ensuring that you can be fully aware of your rights as a working Californian. A good lawyer is available to help you at every step: assessing your situation, filing the initial claim, explaining all the legal implications and possible outcomes in plain language, collaborating effectively to create a great legal strategy, and even fighting aggressively for your rights in a court of law if necessary. Whether you are dealing with wrongful termination, workplace discrimination, wage theft, or some other matter related to your employment, the team at Nosratilaw, A Professional Law Corporation, is ready to guide you through even the most complex legal processes.
Fully customized legal strategies – A quality employment attorney understands that every employee, every job, and every workplace situation is unique. The Lancaster employment lawyers at Nosratilaw, A Professional Law Corporation, excel at evaluating the merits of employment claims and analyzing every detail to build the most effective legal strategy for each unique situation. Drawing on our wealth of positive experience in employment cases, we can determine the viability of the various legal options available to you, then develop a totally customized approach to your case to maximize your chances of an eventual settlement or judgment in your favor. Using a highly collaborative and responsive approach to employment law, we can work closely with you to gather evidence, find witnesses, and build a compelling case.
Negotiations – Not every employment law case is settled in front of a judge at a dramatic trial. In fact, a large percentage of employee/employer legal issues are settled through out-of-court negotiations. Employers often do not want the bad press involved in high-profile legal cases and prefer to come to an agreement that keeps matters out of the public eye. Court trials can often become very expensive for everyone involved, which is another reason some employers will prefer to settle rather than go to trial. All this can be used to the advantage of a wronged employee, so long as the correct legal strategies are leveraged during negotiations. Effectively negotiating with employers, insurance agents, or corporate lawyers requires experience and an extremely specific skill set. The Lancaster employment law team at Nosratilaw, A Professional Law Corporation, is adept at representing your interests during settlement negotiations and other out-of-court discussions. We will not be bullied, pressured, or smooth-talked into accepting an insufficient settlement offer that does not meet your needs.
Litigation and in-court representation – In cases where a fair settlement cannot be reached, we are prepared to act as your steadfast advocates in a court of law. Nosratilaw, A Professional Law Corporation, can handle all legal procedures, document filings, and other details of the case while also preparing to represent you during hearings. Our comprehensive understanding of employment law and the California court system can be leveraged to its fullest extent in an effort to present your case as persuasively as possible, whether by making statements before the judge or thoroughly cross-examining witnesses brought by other parties.
California Employment Law in Context
One of the reasons why employment law cases can become so complex is due to the sheer number of different state and federal laws that inform this field. While you can leave most of the details to your attorney, understanding some of the key laws and regulations that govern employment in California is a great idea for employees seeking to empower themselves. More information is always better when seeking legal recourse against an employer, so here are some of the most significant laws and regulations that might come up in your case:
The Civil Rights Act – Title VII of the landmark 1964 Civil Rights Act, a federal law, prohibits any workplace discrimination based on race, religion, nationality, and other protected classes. It specifically applies to hiring, promotion, and termination practices, among other areas.
Americans With Disabilities Act – The ADA prohibits discrimination against qualifying individuals with physical and mental disabilities, along with those suffering from debilitating health issues. It requires employers to provide reasonable accommodations for such employees and also ensures that people with disabilities have equal opportunities in American workplaces.
Fair Labor Standards Act – The FLSA is another fundamental part of federal employment law. This act establishes the federal standards for important things like minimum wage and overtime pay. This is also where some commonsense issues (e.g., child labor) are officially encoded into our laws. The purpose of the FLSA is to ensure that workers are compensated fairly and not exploited.
California Fair Employment and Housing Act – Known in-state as the FEHA, this California law expands on some of the key protections already afforded to Californians through federal law. It prohibits discrimination, harassment, and retaliation based on several protected characteristics, including age, race, gender, and sexual preference. It applies to both the job and housing markets. FEHA also applies to any employer with five or more people working for them, whereas several federal employment protections only go into effect at operations with 15 or more employees, so it covers many additional Californians working for small businesses who might not enjoy federal protections.
California Labor Code – Most of California's labor laws are included in the far-reaching California Labor Code. This document encompasses many employee rights, including everything from the state's minimum wage to rules about meal breaks and safe working conditions. It also further reinforces the employee protections against unfair treatment afforded by federal law and FEHA. California's labor code was deliberately drafted to set higher standards than federal labor laws, making Californian workers some of the most protected in the country.
Employment Law Firm FAQs
Q: How Much Do Employment Lawyers Charge in California?
A: As with any other type of legal services, the cost of an employment attorney in California is going to vary greatly depending on several factors. Some of these factors include the quality of the attorney, the city where the lawyer practices, and the type and extent of legal services you're seeking. Your lawyer's billing structure can also affect the cost. Most attorneys work on an hourly fee, while others, in certain types of cases, work without an upfront fee and instead take a percentage of your eventual settlement or judgment. Make sure you understand a law firm's rates and billing policies before agreeing to hire them.
Q: Can You Sue Your Employer in California?
A: There are special rules governing employee-employer legal relations in California. Due to the state's no-fault workers' compensation system, for example, an employee cannot actually sue their employer directly for an injury sustained on the job. Instead, a workers' compensation claim is filed through the appropriate system, usually resulting in a claim being paid out on an expedited timeline when compared to a full court case. For other employment-related issues, however, it may indeed be appropriate, even necessary, to sue an employer.
Q: What Are My Employee Rights in California?
A: As a working person in California, you have many rights and protections under United States and California law. Additionally, you are protected from retaliation by your employer for asserting your legal rights. Consulting with an employment lawyer can help you learn about some specific employment laws and the rights they bestow upon you.
Q: What Is Wrongful Termination in California?
A: In California, the labor violation known as "wrongful termination" occurs any time an employer fires one of their employees for an unlawful reason. Some real-world examples of unlawfully ending someone's termination would be firing them for their race or gender or in retaliation for complaining about unsafe work conditions. Oftentimes, unscrupulous employers will go to great lengths to obscure their true motivations for firing an inconvenient employee, so a great deal of evidence can be necessary to successfully pursue a wrongful termination claim. The team at Nosratilaw, A Professional Law Corporation, can help you better understand what does and does not constitute wrongful termination.
Nosratilaw, A Professional Law Corporation – Your Trusted Lancaster Employment Attorney
Trying to seek legal recourse against an employer can be a daunting and extremely stressful proposition. Many employers have vast resources and entire legal teams at their disposal. If you've been wronged at work in Lancaster, CA, or the surrounding areas and are ready to seek legal recourse–and fair compensation–Nosratilaw, A Professional Law Corporation, is ready to help. Contact us today for a no-obligation consultation to get the process started.