Los Angeles Wrongful Termination Lawyer
We don't put up with wrongful termination, and neither should you. Even if your employment is "at-will", you still have the right to be free from wrongful termination that violates public policy. This includes termination based on race, gender, disability, sexual orientation, pregnancy, age and other protected categories. If you have reason to suspect your employer dismissed you illegally, let the Los Angeles wrongful termination attorneys at Nosratilaw, A Professional Law Corporation help.  Our firm works closely with our clients to help hold employers accountable for the damages they have caused. These damages can include loss of income and emotional distress that was caused by the wrongful termination.
Our Los Angeles wrongful termination lawyers have a reputation for excellence in our field and will walk you through every step of the legal process for getting your wages that were owed to you and/or recover other forms of compensation. It's our job to help you so you can secure a better future for you and your family, and to go up against discriminatory employers in Los Angeles and throughout California.
How Can a Wrongful Termination Lawyer in Los Angeles Help?
Before we get into the intricacies of California's wrongful termination laws, let us say how important it is to retain an attorney who gives you confidence and peace of mind.  Your employment is a major part of your life, and vital to the health and happiness of your entire family. Losing your job because of illegal, fraudulent, or discriminatory conduct by an employer should never be how the story ends. In addition, employees who have been wrongfully terminated will often be dealing with a large, corporate defendant with the resources to fight against these claims, even if your claims have merit.  It is vitally important to have experienced legal counsel on your side so you won't have to fight alone.  We are here to to fight for your rights as an American worker with help from our team of skilled attorneys.
Wrongful Termination Claims Quick Answers:
Why Choose The Law Office Of Omid Nosrati?
Exceptional communication: We'll keep you updated on the developments of your claim and answer any questions or concerns you might have along the way. We know this process can be difficult for you and your family and we are here to help you in any way we can.
We are not a "mill" law firm: When you work with us for your wrongful termination claim, you stay in constant contact with one of our attorneys, not just an assistant or paralegal. You speak directly with the lawyer in charge of your case (either Mr. Nosrati or one of his skilled associates), unlike what you may find at larger, mill firms.
Clients trust us: We wouldn't be where we are today without the support and gratitude of our past clients. We've earned numerous, perfect five out of five client ratings on several national lawyer rating services, including Avvo, Super Lawyers, Yelp, and Google.
We are recognized by our legal peers: Mr. Nosrati received the SuperLawyers honor for 2018, on top of a 4.9 out of five peer rating on Martindale Hubbell. Other lawyers endorse Mr. Nosrati and his firm's services and recommend us to clients frequently.
Decades of Experience in employment law: We have over 20 years of combined experience in employment law which is important in helping achieve positive results for our clients. We use our reputation, experience and skill in and out of the court room to give you the best chance for obtaining a satisfactory resolution of your case.
If you suspect that you were a victim of wrongful termination in Los Angeles, you can contact our wrongful termination attorneys for a free, no-obligation case evaluation. During your consult, we'll leverage our extensive legal expertise to objectively assess the merit of your case. From there, we'll help you understand what type of legal representation best suits your situation, and how to proceed. If we decide to offer our services, you will gain access to our variety of legal resources, tools, and advocates.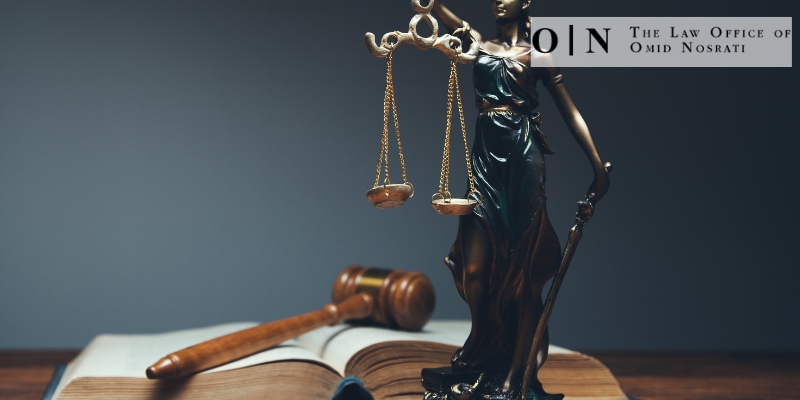 What Is Wrongful Termination?
In basic terms, "wrongful termination" is the illegal firing of an employee. While it's mostly up to the employer when to hire and fire workers, there are certain circumstances when the termination will be "wrongful" in the eyes of the law. Examples include if the employer violates the terms of an employment agreement or breaks the law. Federal and state workplace discrimination laws often come into play when dealing with wrongful termination cases. You need a wrongful termination attorney with experience handling federal and state civil rights laws.
What Are Grounds for Wrongful Termination?
To have a valid wrongful termination claim, employers must violate state or federal law when they fire employees. Since California is a state where employees work at will, it's possible for employers to terminate workers at any time. However, the law has many restrictions on when employees can lose their jobs.
Contract claims: Employment contracts can contain a guarantee of employment for a certain amount of time. They can also include a statement that mentions that the employer will only fire someone for cause. If your employer breaches the terms of the contract in firing you, then you will likely have a strong claim for wrongful termination. A contract can include oral and written agreements, such as a complete contract or an employee handbook.
Discrimination claims: In addition to protected characteristics under federal law, California has several characteristics that employers cannot base job decisions on. These include race, color, national origin, religion, sex, pregnancy, age, disability, genetic information, sexual orientation, gender identity, citizenship status, marital status, AIDS/HIV status, medical condition, political beliefs, political activities, military or veteran status, or for being a victim of stalking, assault, or domestic violence. You may also be able to claim additional damages from your lost wages and benefits due to your termination.
Retaliation claims: All workers can exercise and enforce their employment rights. If you take time off to serve on a jury, file a complaint against discrimination or harassment, request or take family or medical leave, file a workers' compensation claim, or complain about illegal wage and hour practices, your employer cannot fire you.
Violation of Public Policy: Public policy claims have similar grounds as retaliation claims, which follow a specific legal provision. Public policy mandates that employees cannot lose their jobs for exercising a legal right, complaining about workplace illegality, or refusing to commit a legal act. You do not need to base your public policy claim or a specific legal provision to have a valid case. For example, employees that lost their jobs because they refuse to participate in fraud by their company will still have grounds for wrongful termination, even though no law or statute forbids firing an employee for such an action.
Depending on the type of wrongful termination claim you have, your case may also involve other claims. In California, public policy claims also count as a type of personal injury claim, making it possible to cover other damages in your compensation. You may be able to recover emotional distress and punitive damages, if your case is severe enough.
Personal injury claims can also play a role in discrimination and retaliation claims. You may have grounds to recover compensation for personal injury if your termination involved damages. For example, if you complained about sexual harassment at the workplace, leading to your termination, you may have grounds for retaliation, harassment, and assault or battery.
If your employer falsely accuses you of theft and maliciously spreads the information to sabotage your chances of getting a new job,  you may have a claim of defamation. You may also have a claim of fraud if your employer promised you certain benefits upon hiring you or completing work that the employer had no intention of fulfilling.
"At-will" doesn't mean "no rules"
Most jobs follow the rules of "at-will" employment. Broadly, this means that employees are free to quit their jobs at any time, and that employers have broad power to end a worker's employment.
But, this power is not unlimited. It is illegal to fire an at-will employee for one of the following reasons:
Discrimination: California law prohibits firing someone because of their race, religion, sexual orientation, pregnancy, disability or any other protected characteristic. Similarly, employers cannot fire workers simply because they asked for reasonable accommodations for their disability or religious practices.
Legal use of benefits: Employees in California have a right to take leave to care for their own health issue or to care for an unwell family member. Parents also have a right to take leave when a new child joins the family. Not everyone is eligible for leave, but employers may not fire workers for taking or requesting a leave to which they are legally entitled.
Retaliation: Everyone deserves a safe and fair working environment. The law forbids retaliation against workers who report harassment, health and safety risks, pay and overtime violations, and similar issues. Workers cannot be fired for making good-faith reports of improper conduct.
Nosratilaw, A Professional Law Corporation has practiced employment law for years. Our attorneys understand what laws protect Los Angeles workers, and know how to handle these cases with care. Our main goal is to help wronged employees understand their rights, stand up against discrimination or illegal business practices, and get the reimbursement they deserve for their troubles. We do this with exceptional client communication, personalized legal services, and effective advocating.
You might suspect wrongful termination if you did nothing wrong, if your employer has broken a contract with you, if the termination came after you reported your employer for workplace safety violations, or if you have reason to believe your employer let you go because of your race, gender, sexual orientation, religion, age, disability, or other protected class. As soon as you think you have suffered a wrongful termination, consulting with an experienced employment attorney in Los Angeles can help you protect your legal rights. You can confide in our firm during a confidential and complimentary consultation. There are zero up-front costs, and no fees at all unless we get you compensation.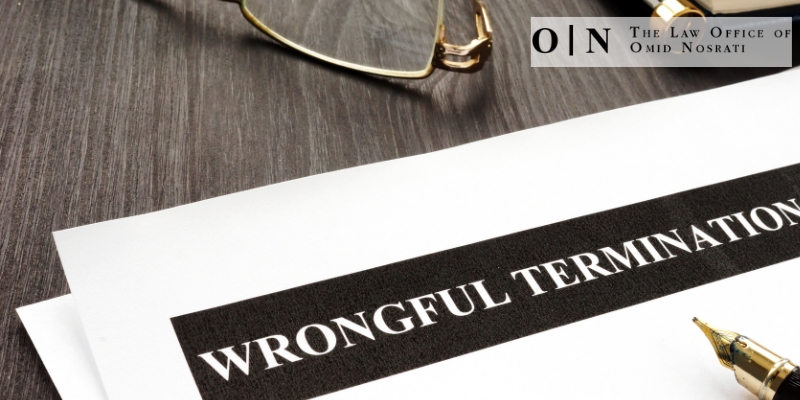 FAQs About Wrongful Termination Law in California
Has your employer recently fired you with seemingly no reason? Are you concerned about your future and unsure whether you have grounds to sue the employer for wrongful termination? At the Law Office of Omid Nosrati, we assist many Los Angeles employees in navigating their employment concerns. An experienced employment law attorney can be a great asset if you think you have grounds for a wrongful termination claim, but the reality of these claims is they can be more complex than they appear at first.
Review some of the most common questions we hear about wrongful termination in California. As you read through the following questions and their answers, see what resonates with your present situation to gain a better understanding of the circumstances surrounding your firing and whether you may have grounds for legal action against an employer who wrongfully fired you.
How Can I Tell If a Termination Is Wrongful?
A protected activity is anything the law gives you the right to do, such as reporting your employer to authorities for fraud, embezzlement, unlawful activities, safety code violations, and wage and hour violations. You also have the right to refuse to participate in unlawful activities at work. If you lose your job because of one of these activities, you are the victim of wrongful termination.
If you are fired based on other protected reasons, such as age, race, color, national origin, sex, disability, pregnancy, religion, or veteran status, that is also considered a wrongful termination.
My Boss Replaced Me with Someone Younger. Is This Wrongful Termination?
Maybe. There is a chance you could be the victim of age discrimination and wrongful termination in the workplace, if this is the case. However, you must be at least over the age of 40 to seek protection under California's age discrimination laws. The motivation of your employer is at the crux of this type of case. Simply getting fired as an older employee doesn't automatically mean discrimination. However, if your age was a motivating factor in the replacement, you could have a case of illegal termination.
Do I Qualify for Unemployment Benefits?
If you lose your job through no fault of your own, you might be eligible for unemployment compensation benefits for up to 26 weeks. California is an "at-will" state, meaning employers have the right to fire employees for any reason, at any time. You can remain eligible for unemployment despite the at-will laws. You can apply for unemployment benefits if you lose your job via termination. If your employer makes conditions at work so unbearable that it forces you to quit, you might have trouble qualifying for unemployment compensation. Keeping a record of conditions at your workplace as evidence of "constructive termination" could be helpful later on.
Is Breach of Contract Considered Wrongful Termination?
In some cases, California's at-will laws don't apply to employees. There are contracts between employers and workers that could limit the employer's ability to fire a worker at will. In these cases, employees might be able to argue wrongful termination if the employer had no reason to fire them. Legal reasons to terminate contracted employees include the employee willfully breaching a contract, habitually neglecting his/her employment duties, or being unable to perform duties. Verbal and written contracts qualify under state laws.
Does "at will" employment mean my employer can fire me at any time for no reason?
Yes, and no. At will employment does not require an employer or employee to provide a reason or prior notice for ending a term of employment. However, at will employment laws do not grant employers permission to fire employees for illegal reasons, such as discrimination, retaliation, or exercise of basic Constitutional rights.
I reported my employer for illegal activity in the workplace and was quickly fired. Do I have grounds for a wrongful termination claim?
Absolutely. It is your right and, in many ways, your responsibility to report illegal workplace happenings to the proper authorities. If your employer takes any adverse actions against you or terminates your employment in response, this is clear-cut retaliation and grounds for a wrongful termination lawsuit.
I hurt myself at work, but I'm afraid my employer will fire me if I file for workers' compensation benefits. Should I be concerned?
No. Employers in California that carry workers' compensation insurance coverage have a legal duty to facilitate employees' claims, not to interfere with them. If you suffer an injury on the job that requires medical attention, it is vital to report it as soon as possible so you can start the claims process. Any delay could interfere with your ability to collect workers' compensation benefits. If your employer takes any punitive action against you for asking to file for workers' compensation benefits, such as denying you access to necessary paperwork, demoting you, transferring you to another department, altering your job hours or compensation rate, or firing you, you would have grounds for legal action against these kinds of retaliation.
Management recently removed my supervisor and placed my position under a new supervisor, and the new supervisor seems to be much harsher on me than the previous one despite the fact that I am performing ahead of the rest of my department. Does this qualify as discrimination?
Possibly. Can you think of any things the new supervisor has said or done to make you think the supervisor is acting in a discriminatory fashion? Have you tried asking the supervisor about their perceived hostility toward you? If you have any evidence that would support your suspicion of discrimination, this may likely be the cause. Try to explore internal channels for a resolution unless you know for certain that the blowback you have been receiving is due to the employer's discriminatory attitude.
Does an employer need grounds to fire me with an at will employment agreement?
Technically, no. The employer and the employee in an at will employment agreement both have the right to end the working relationship at any time with or without cause and with or without prior notice. However, this law does not allow employers to fire employees for illegal reasons.
My employment contract does not include an at will employment agreement, but my employer fired me before my contract ended despite my positive performance. Do I have grounds for legal action?
As long as you upheld your end of the contract and did not violate any part of it, it sounds like you may have grounds for a breach of contract lawsuit or wrongful termination lawsuit against the employer. A wrongful termination lawyer can review the specifics of your situation and help you determine your best options.
How do I prove that my firing was for a discriminatory reason when my employer can just refer to the at will employment law?
If you have any evidence to support your belief that your employer fired you for a discriminatory reason, an employment law attorney can help you determine the best next steps to take. Some examples of evidence that could support your case could include witness testimony from coworkers or official intercompany correspondence records (such as emails) that include discriminatory language.
What type of compensation can I receive from a successful wrongful termination lawsuit?
Many wrongful termination lawsuits aim to recover lost income. If your employer wrongfully prevented you from earning income, you can claim this loss as damages in your lawsuit. You may also have the opportunity to claim compensation for emotional distress damage to your professional reputation and attorney's fees. Depending on the nature and severity of your former employer's actions, the judge hearing the case could also award punitive damages.
I know for a fact that my employer fired me for a discriminatory reason despite their claim of the at will statute, and I have evidence to prove it. Do I really need to hire an employment law lawyer?
Attempting pro se or self representation is incredibly risky. Failing to meet a filing deadline or submitting court documents incorrectly could jeopardize your whole claim. Think of hiring a wrongful termination attorney as a safety net for your claim. Your attorney will handle the legal side of your situation so you can focus on finding a new job, and, if you're concerned about the expense of hiring an attorney, it is highly likely that your employer will face liability for your attorney's fees if you succeed with your case.
When Do I Need a Wrongful Termination Lawyer in Los Angeles, CA?
Feel free to contact our law office with any questions or concerns you might have about a recent job termination or another form of retaliation. We offer complimentary case evaluations so that you can discuss your issue with an attorney at no cost or obligation – virtually risk-free. It's a good idea to contact Nosratilaw, A Professional Law Corporation as soon as you suspect wrongful termination. An attorney can help you file claims with the proper organizations and pursue compensation through a settlement or trial in Los Angeles. Call (310) 553-5630 for more information.
How long should I wait before hiring a wrongful termination attorney in Los Angeles, CA?
There are several advantages to consulting with and hiring a wrongful termination attorney soon after your termination. The reason for this is, as time goes by, some evidence or potential witnesses can become inaccessible. Additionally, recalling the details of an event becomes more difficult if it occurred months or years ago. You should be aware that filing deadlines (statutes of limitations) may also apply, which means waiting too long could jeopardize your ability to file a claim.
I believe I was terminated without cause, but I can't afford an attorney. What do I do?
After a sudden loss of income, finding a budget to hire a wrongful termination attorney should be the least of your worries. At the Law Office of Omid Nosrati, we know how stressful it is to begin recovering from a wrongful termination while also pursuing legal action. We make the process easy and hassle-free for you as we operate a contingency fee law practice. This means that if we obtain a settlement for you or win your case at trial, then a percentage of your recovery will be paid for our fees and any costs advanced on your behalf. If we don't get you a recovery, and you don't obtain a recovery later with another law firm, you won't owe us anything. Simple as that.
I didn't change jobs or get fired, but my employer adjusted the expectations of those in my role and I can't take it anymore. It's unbearable and I want to quit. Can a wrongful termination lawyer help me prove constructive discharge?
Wrongful termination and constructive discharge are very different, but you may still have a case with which we can assist. The California Supreme Court recognizes constructive discharge as valid when the employee can prove the employer intentionally created or allowed work conditions to change in such a way that encouraged the employee to resign. If you would like a member of our team to review your case to determine if constructive discharge is a factor, please contact us.
I had to miss a lot of work while caring for a sick relative and now I might be fired. Do I have a case for wrongful termination in California?
First, why do you suspect you will be fired? This is an important question to answer because there may be other factors, such as discrimination, to consider. Second, employers are required under the Family Medical Leave Act (FMLA) to protect your position if you qualify to use this benefit. FMLA requires that you have been employed for 12 months prior to the leave with a minimum of 1,250 hours worked during that time. If you feel like you're being treated unfairly due to legitimately taking FMLA, please speak with a member of our team to determine if you have a case.
What qualifies as discrimination in the workplace? What if I haven't been fired but can't seem to move up the corporate ladder like some of my peers?
California's anti-discrimination laws apply to all aspects of employment, from advertising to the application process. Business decisions and processes, such as internal promotions, transfers, and professional development opportunities, are also subject to anti-discrimination laws. An employer cannot discriminate because of a protected characteristic. Protected characteristics include:
Race, color, ancestry, and national origin
Religion or creed
Physical or mental disability
Age if over 40
Marital status
Gender identity or expression
Sex or gender
Veteran or military status
Medical condition
Genetic profile or predisposition
If you feel you're being discriminated against due to one of the protected characteristics above, contact our office to discuss whether you have a case.
I was recently fired after a disagreement with my manager. I'm now looking for work, but my previous employer keeps giving me a bad reference. I believe he is lying about me. What can I do?
The details of your situation will be key here, as you may have a case for wrongful termination. The best course of action is to document and gather any evidence you have supporting wrongful termination. Contact us as soon as possible to discuss your legal options. It is not uncommon to seek damages in excess of lost wages to include damage to your professional reputation.
I recently confronted my employer about time reporting errors that resulted in fewer work hours being paid. I think they're shorting employees' checks by not tallying all hours worked. Three days later, I was suddenly fired. Do I have a wrongful termination case?
Evidence is key in winning cases that involve wage disputes, but it is possible you do have a case. You should consult with an attorney as soon as possible to discuss your options.
I am an employer being sued by a former employee for wrongful termination. Can your firm help me?
At the Law Office of Omid Nosrati, we are dedicated to serving the unique needs of employees dealing with an employer-related legal issue. Our passion truly lies in helping employees overcome wrongful termination, discrimination-related mistreatment, harassment, and abuse. That said, we exclusively work with employees and do not defend employers.
We hope that these questions and answers have helped you clarify your understanding of wrongful termination cases, how they work in California, and how to best proceed with your own claim. If you have been wrongfully fired and need a reliable wrongful termination attorney on your side, contact the Law Office of Omid Nosrati today to schedule a consultation. An experienced employment law lawyer will review the details of your situation and let you know how our firm can help.
California Wrongful Termination Law
Every state maintains its own employment and wrongful termination laws. In California, an overarching "at-will" law exists within all workplaces. This means employers have the right to dismiss employees at will, anytime, for any reason. In other words, the employee does not have a contract with the company and can face dismissal at any time. The state's at-will laws have several important exceptions, however, and never apply in cases where the employer terminates someone for unlawful reasons.
In California, wrongful termination can exist even if there was a reason for your employer to fire you. If the employer mixed a permissible reason for your termination with an impermissible one, you could still have grounds to file a wrongful termination claim. The illegal reason must have been a "substantial motivating factor" in your termination for you to have the right to fight your employer on the decision – not something trivial. To have a wrongful termination claim, your employer must have either formally fired you or made working conditions so hostile or intolerable as to force you to quit, better known as constructive termination.
A successful wrongful termination claim can result in money damages for your lost wages and benefits, lost employment opportunities, emotional distress, and even punitive damages for your employer's wrongful action. Keep in mind that several other laws could play a part in a wrongful termination claim, including laws under California's Fair Employment and Housing Act and the Labor Code. Consulting with an experienced employment lawyer  is a good first step to help you sort through the specific California wrongful termination laws that apply to your case.
Exceptions to At-Will Employment
California labor laws enforce at-will employment in most situations. This does not, however, give employers the right to terminate workers illegally. There are exceptions to California's at-will laws that give employees the right to take their employers to court in the event of wrongful termination. Otherwise, the law would permit employers to terminate employees for illegal reasons. Exceptions to the at-will law include:
If a contract or implied contract exists between the two parties that states, the employer will not terminate the employee without good cause.
If the employer terminates the employee based on a protected class such as age, race, pregnancy, religion, disability, sexual orientation, or military status.
If the employer wrongfully terminates the employee because he or she performed a legal duty such as reporting the employer to authorities, or if the employee refused to help the employer conduct illegal activities.
If the employer terminates the employee for reporting unsafe work conditions.
Type of Wrongful Termination Lawsuits
There are almost endless examples of wrongful termination. However, some case scenarios happen more often than others in California. There are common reasons for wrongful termination that can help you understand whether or not you have a claim. Remember that each claim is unique and that the best way to find out if you have a lawsuit is during a discussion with an employment lawyer. In the meantime, here are the common types circumstances that can lead to wrongful termination:
Breach of contract
Employee discrimination or workplace harassment
Forcing an employee to leave the position
Ignoring protected leave
Improper accommodations for disabilities
Violation of public policy
Whistleblowing or retaliation
Wrongful termination is a very serious offense that can completely dismantle an employee's life. In the majority of cases, employers know what they are doing. They know they're breaking the law or firing someone illegally and are hoping the employee simply won't do anything about it – or even realize that the termination is against the law. When you speak with one of our Los Angeles attorneys, you can get to the bottom of your recent termination and take action right away.
Wrongful Termination and Whistleblower Protections
A "whistleblower" is an employee who reports an employer for wrongdoing such as discrimination, safety code violations, illegal activities, and fraud. It is within every worker's rights to report suspicious activity to the authorities. Retaliation for using these rights, such as terminating the employee who filed the report, is against the law. In California, Labor Code 1102.5 discusses employees' protection against retaliation and wrongful termination of whistleblowers.
California's False Claims Act is also important, as it discusses "qui tam" laws that enable employees to sue employers on behalf of the government. Qui tam actions may be necessary if your employer has committed fraud against the government, or embezzlement of government funds. Do not try to tackle these types of employment claims on your own.
With so many potential grounds for a claim, it can be difficult to determine which ones apply to your case and if you qualify for any additional forms of compensation. Your best move is to consult an attorney to evaluate your case and help you protect your rights. As some types of wrongful termination claims have strict statutes of limitations, it's important to act quickly so that you can still recover compensation. 
Hire an experienced Los Angeles employment attorney to optimize your chances of success. Start with a free consultation with Nosratilaw, A Professional Law Corporation. Contact us online or call (310) 553-5630 today.