Los Angeles Hostile Work Environment Lawyer
Anyone that works in Los Angeles deserves to do his or her job in a stress-free environment free from harassment, but that isn't always the case. Workplace harassment can have devastating, long-term effects that include anxiety, depression, sleep issues, substance abuse and post-traumatic stress disorder.
And while laws are in place that are designed to protect workers from a hostile work environment, instances of serious workplace harassment are still prevalent. If you consistently find yourself in stressful situations at work because of the actions of your co-workers or superiors, a hostile work environment lawsuit could be your best option.
When you get in touch with Nosratilaw, A Professional Law Corporation, we will assign one of our experienced Los Angeles hostile work environment attorneys to assess your case.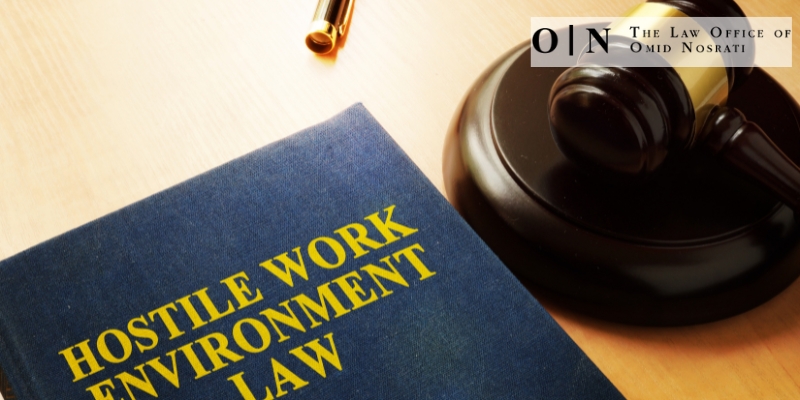 What Is Considered a Hostile Work Environment in California?
Not all forms of workplace harassment will fall under the umbrella of a hostile work environment, and it's important to know to know the guidelines before a suit can be filed. Generally, if the negative behavior takes place occasionally, if it is isolated, sporadic or trivial in nature, then it is not considered a hostile work environment.
In California, the Fair Employment and Housing Act (FEHA) protects employees from hostile work environments. According to FEHA, the inappropriate or unwelcomed behavior you encounter must be pervasive or severe enough that it changes the conditions of employment and creates an abusive atmosphere.
Behaviors that Create an Unlawful Hostile Work Environment
There is a wide range of behaviors that can contribute to a hostile work environment. It's also important to note that the behavior doesn't need to be aimed directly at you to be considered harassment. Some of the most common include:
Offensive jokes
Racial slurs
Gender-based slurs
Sexual comments
Physical harassment such as unwanted touching or rubbing
Epithets or name-calling
Any type of physical violence
Threats of physical violence
Intimidation
Any type of insult
Showing offensive objects or pictures
Discrimination
Protected Traits Under California Law
FEHA outlines specific protected traits that will always be considered part of a hostile work environment if attacked using any of the above behaviors. Get in touch with a Los Angeles hostile work environment attorney immediately if you experience workplace harassment based on:
Race
Religion
Gender
Mental disability
Physical disability
Sexual orientation
Gender identity
Age
National origin
Marital status
Ancestry
Medical conditions
When to Call a Los Angeles Hostile Work Environment Attorney
If you feel that you are the victim of a hostile work environment, it is important to take action as soon as possible. If you feel comfortable, ask the offender to stop the behavior, and if this fails to produce results, speak with your employer about the harassment you are receiving.
Make a point of keeping a record of the events and your responses, as this will show a pattern of abuse that will improve your chances of a successful lawsuit if it comes to that. If your employer fails to remedy the situation, or if you are fearful and not sure what to do, contact us at Nosratilaw, A Professional Law Corporation for a consultation with a top rated employment attorney.