Glendale Employment Lawyer
As an employee, your employer should provide a safe and judgment-free workplace for you and your coworkers. It should be free from harassment, discrimination, or legal violations. Sometimes, however, the actions of your coworkers or bosses can make your workplace toxic and unbearable. Filing a claim about the unfair or poor treatment you have faced at work starts with speaking to an employment lawyer. In Glendale, the legal team at Nosratilaw, A Professional Law Corporation can help you with your case.
What Is Employment Law?
Individual employees are protected under employment law. This also governs any subsequent legal actions to remedy issues with an employer. Safeguards provided by employment laws help defend against any type of harassment or discrimination that an employee may experience from their employer. These can range from accessibility claims to gender-related discrimination.
Examples of targeted incidents of retaliation can include:
Targeted harassment and discrimination
Wage reductions
Unjust disciplinary procedures
Separation or dismissal from service for reporting any instances of discrimination or harassment
These are all instances where an employer tries to punish an employee for certain behaviors or characteristics.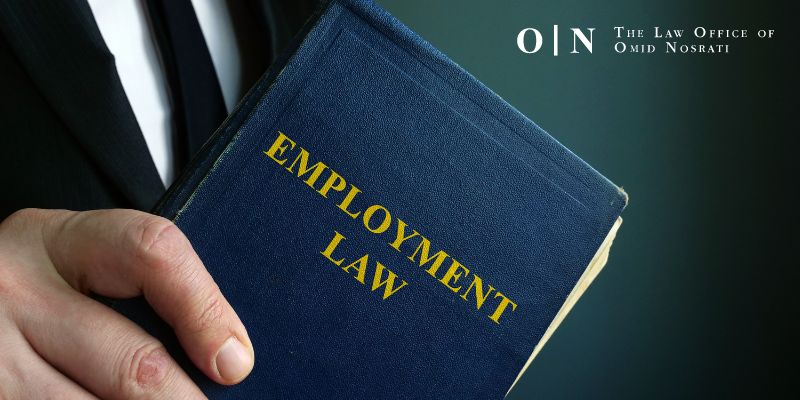 Issues Handled by Employment Lawyers
It can be stressful to take any form of action while dealing with work-related concerns, especially when retaliation is a frequent occurrence. Your management team may become divided if you disclose harassment, retaliation, or discrimination. You, the employee, may suffer the consequences of these decisions. Thankfully, the safeguards offered by employment regulations can assist you in raising these concerns. They can also help you receive the appropriate remedies for each circumstance. The following are some of the key areas of employment law:
Retaliation: After being a part of or reporting an incident at the office, employees typically start seeking support from internal programs or human resources. This is a logical first step to remedy these issues. Unfortunately, speaking out about any complaints or unfair treatment at work can be perceived as a danger to your employer. To protect their reputation and scare employees, they may resort to suppression through retaliation. When this happens, the next action an employee should take is to seek legal redress.
Wrongful Termination: A case of wrongful termination may result if workplace disputes between employees and management get out of control and escalate. Employment termination is viewed as an extreme form of retaliation. It is the last step that your employer can take to prevent you from coming forward. Their ultimate hope is to hide the issues you have faced during your time employed by them. However, getting legal assistance to prove wrongful termination can help you get your job back. It can also allow you to finally speak about the problems you faced or observed in a retaliation-free environment.
Discrimination: A hostile work environment can be distracting and emotionally taxing, particularly when attempting to focus on your work. Oftentimes, workplace discrimination goes unchecked. Workers may not realize they are targets and are unaware of their rights as employees. Age, race, gender identity, sexual orientation, and religious affiliation are often used to discriminate against or harass employees. This creates a hostile work environment for those employees. Ensuring that these concerns are addressed is essential to creating a more accepting workplace.
Sexual Harassment: One of the largest issues at work that affects both women and men is sexual harassment. It can be intimidating to report sexual harassment, particularly if the offender is in management or a higher position within the organization. Victims may also face pressure to remain silent to avoid retaliation for speaking out about their experiences. Coming out against sexual harassment should not result in you losing your job. Combating those who want to hide or bury your story can help you get the justice you deserve.
Wage and Hour Disputes: Claims for unpaid overtime, underpayment of necessary wages, and misrepresentation of workers as independent contractors or exempt from payment are all examples of wage and hour violations. These issues are extremely stressful because of their direct link to your financial security. This can make reporting them very stressful for affected employees. Assessing these issues, and bringing them forward to an employment law attorney, is essential. This allows you to effectively address these claims and get your wages restored.
To succeed at work, it is essential to resolve any issues and establish a welcoming, productive workplace. You reserve the right to have your experiences or problems at work handled and managed with the highest care. Speaking out should never result in punishment. The ideal way to recover from these upsetting occurrences is to obtain legal assistance. This allows the authorities to address any employment law violations.
Differences Between Employment Law and Labor Law
Employment law is typically handled on an individual basis. Court cases frequently arise because of a single employee's claim against their company. Labor and employment law both cover grievance relief for unfair work practices. This includes retaliation for raising concerns about the company's unfair practices.
Employment law cases involve a single employee as opposed to labor unions or groups of employees. For instance, after telling her boss she is pregnant, a worker is unfairly fired. This situation would be addressed under employment law. The affected worker could hire an employment attorney to represent her in court.
Both employment law and labor law were created to defend employees' rights. However, their main areas of concentration differ. Labor law, in contrast with employment law, typically deals with a staff team that consists of more than one worker. This is more commonly referred to as a labor union. Worker-created organizations, such as labor unions, are frequently established, maintained, and protected by labor law safeguards. These rights can also make it easier for employees, bosses, and the National Labor Relations Board (NLRB) to meet or resolve disputes.
Is California an At-Will Employment State?
California is an "at-will" state. This means that most occupations are generally terminable at any time by both the employer and the employee. If an employer finds that an employee is not meeting their standards for employment, or if they violate a company policy, they are at risk for termination. However, there are a few caveats to at-will employment legislation. These may enable a fired employee to file a wrongful termination claim against their employer. In California, the following situations are excluded from at-will employment protections:
There is an implication that your employment will continue.
A mutual agreement was made in good faith about the position.
Losing a job can bring a wide range of complications to your daily life. Your financial security is lost when you lose your job, putting things like housing and food costs in jeopardy. It can also harm your chances of finding a job in the future. Overall, it can be detrimental to your physical, mental, and emotional well-being. Workers who have been unlawfully terminated following California employment law are entitled to file a wrongful termination claim. This allows them to receive damages for their suffering.
Glendale Employment Law FAQs
Q: How much does an employment lawyer cost?
A: In California, hourly rates for employment lawyers typically range from $98 to $450, depending on their level of experience. Some firms, like Nosratilaw, A Professional Law Corporation, base their payments on a contingency basis. This means that compensation for their work is based on whether you win your case. It allows you to focus less on finances and more on your case.
Q: What does an employment lawyer do?
A: Employment lawyers focus on instances of:
Wage and hour violations
Discrimination
Harassment
Wrongful termination
Retaliation
They help analyze your claims to build a case against your employer. They do this by using a combination of statements, evidence, and witness testimony to confirm the events presented in the case. Ultimately, their goal is to help you reach a settlement that can help compensate for the damages you faced while working.
Q: How do I hire an employment lawyer?
A: Just like any other legal service, hiring an employment lawyer begins with finding a firm to take on your case. The first step toward securing representation is to speak with an attorney. This can be done by calling, emailing, or submitting a consultation request through their website. From there, your attorney can support you through filing your claim and facing mediation or litigation.
Q: What makes a good employment lawyer?
A: The most crucial criteria to consider while searching for an employment lawyer in Glendale are their qualifications, experience, and track record. These are vital regardless of the type of employment issue you have. Without supportive representation, going through the process of filing a claim can be exceedingly stressful or overwhelming. This is especially true with more sensitive subjects like discrimination or sexual harassment.
Finding a Glendale Employment Lawyer
Securing employment is critical for your financial stability. When that gets compromised by your employer, taking the legal steps necessary to address these problems is essential for remedying the situation. For those in Glendale, Nosratilaw, A Professional Law Corporation can help review your case and assist in filing an employment law claim. For more information on our firm, visit our website and contact us to schedule a meeting with our team.