Glendale Pregnancy Discrimination Lawyer
Discrimination in the Glendale, CA workplace based on certain protected characteristics is illegal. Being an employee who is pregnant is one of these characteristics. Employers are prohibited from firing, failing to hire, or otherwise discriminating against a pregnant employee or hiring candidates based on their pregnancy. If you are pregnant, and feel that an employer or potential employer has put you at a disadvantage in your work because of your pregnancy, you could file a claim for pregnancy discrimination. By doing so, you can earn compensation for the discrimination you face.
Nosratilaw, A Professional Law Corporation: Your Pregnancy Discrimination Attorneys
At Nosratilaw, A Professional Law Corporation, we protect the rights of pregnant employees. You may find yourself being paid less, being passed over for rightful promotions, or being harassed at work. Some employers will pretend that their actions are legal, but this isn't the case. No one should have to face this treatment at work. Our discrimination attorneys can help you determine the validity of your claim and file it with the right agencies. Our team has more than 20 combined years of experience, and we want to use that legal knowledge and success to get you the compensation you deserve and hold your employer accountable.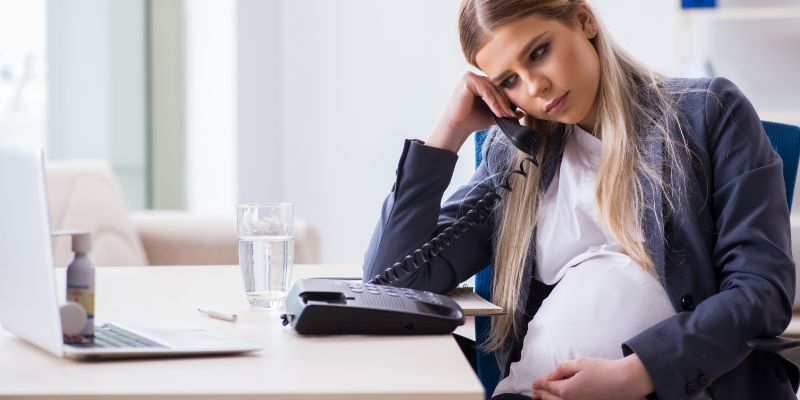 Understanding Pregnancy Discrimination
Federal and state laws provide protection from discrimination for several protected characteristics, including:
Race and skin color
Gender and sex
Sexual orientation
Religion and religious creed
Ethnicity and national origin
Mental and physical disabilities
Being pregnant is also a protected characteristic. If an employer in California employs more than 5 workers, they are prohibited from discriminating against employees or potential employees on the basis of their pregnancy. Discriminatory actions by an employer include:
Refusing to hire someone because they are pregnant
Passing over an employee for a deserved promotion because they are pregnant
Firing an employee because of a pregnancy or plans to become pregnant
Harassing behaviors toward a pregnant employee
Asking an employee or potential employee if they plan to become pregnant
Demoting an employee, or cutting pay, benefits, or hours, due to pregnancy
Excluding a pregnant employee from essential workplace communications and information
It's essential to understand your rights as a pregnant employee so that you can better protect yourself. Your pregnancy is a personal joy, and your employer should not interfere in that personal part of your life.
Why Do I Need a Glendale Pregnancy Discrimination Attorney?
If an employer is discriminating against you because of your pregnancy, it's likely they aren't overt about it. They know what they're doing is illegal, but they may try to blame discriminatory actions on other factors. Working with an employment lawyer gives you the greatest chance of gathering essential evidence and proving discrimination.
An attorney can also lessen your legal burdens during an already busy and potentially stressful time in your life. You want to be preparing your home and family for a new addition. Your discrimination attorney can make filing your claim a faster and more effective process. They can also negotiate on your behalf to earn you compensation.
Your Employee Rights During Pregnancy
Pregnant employees, in addition to standard employee rights, have rights regarding pregnancy and postnatal care. Pregnant employees have the right to:
Take reasonable parental leave. Expecting employees can take parental leave for up to 4 months during pregnancy and after childbirth, then return to their same job or a comparable job after returning.
Have reasonable workplace accommodations. This includes accommodations for medical and rest needs during and after pregnancy.
Be transferred to a less hazardous or tiring position while at work if necessary and available.
Have reasonable break time and a workstation near a room to pump breast milk in private after childbirth.
Refusing these rights is illegal, as is any act of discrimination. When you file a claim against your employer for their discriminatory actions, it holds them accountable and can stop other employees from experiencing the same discrimination. You can also receive compensation for lost wages, lost job opportunities, and lost earning potential, as well as other damages.
State and Federal Laws That Protect Pregnant Employees
Federal laws apply to any employer with 15 employees or more, while state laws apply to employers with 5 employees or more. These employers are prohibited from making employment decisions based on medical conditions or disabilities, including pregnancy and childbirth. Federal and state pregnancy anti-discrimination laws include:
Pregnancy Discrimination Act of 1978: This federal act bans discrimination based on pregnancy and requires that employers make reasonable accommodations for a pregnant employee.
California Fair Employment and Housing Act: This state law also bans workplace discrimination against pregnant employees. It also requires that employers give their workers information about their rights to pregnancy and childbirth leave.
California Family Rights Act: This state law provides pregnant employees with the right to parental leave for up to 4 months and to use any vacation leave. The expansion of this act led to the repeal of the New Parent Leave Act in 2021.
Family and Medical Leave Act: This provides employees with unpaid and job-protected leave to take care of specific family and medical issues, including the birth of a child.
Pregnancy and parental rights are also protected under the California Pregnancy Disability Leave Law. An employer who violates your rights can be held accountable for their actions.
Proving Pregnancy Discrimination in Glendale
Proving discrimination in the workplace is based on direct and indirect evidence. Direct evidence may include communication, statements, or witness testimony that shows the employer's discriminatory bias.
Indirect evidence includes proving that an alternate reason given by the employer for their actions makes no sense. For example, if an employee was wrongfully terminated because of their pregnancy, the employer may state they were fired because of their poor work performance. Indirect evidence can show proof that their performance was satisfactory, meaning there was another reason for the termination.
How workplace discrimination is proven depends on your unique circumstances. Your discrimination attorney can help you determine what evidence is relevant.
Elements of a Successful Pregnancy Discrimination Claim
Your attorney can help gather evidence for your claim and advocate for your case during negotiations or in court. To prove pregnancy discrimination, you must show that the following is true:
Either state or federal laws apply to your employer and prohibit pregnancy discrimination.
Your employer made an employment decision or took an action against you.
This decision or action was motivated in part by your pregnancy.
This action negatively affected you or your career.
Being able to prove this will make it more likely that you receive compensation. If you believe you're facing pregnancy discrimination, it's important to discuss your situation with an attorney. They can help you determine if your claim is valid and what forms of compensation you could be awarded. You could be reinstated at your job, have court costs covered, or receive damages for emotional distress. Your employer may have to pay punitive damages, which are solely intended to punish them for their discriminatory actions.
Pregnancy Discrimination Lawyer FAQs
Q: How Hard Is It to Prove Pregnancy Discrimination?
A: A case with direct evidence, such as correspondence or statements directly from an employer about their behavior, is stronger than one that only uses indirect evidence. That's why it's important that you save internal correspondence, as you may not realize how important the evidence is. It can be difficult to prove pregnancy discrimination because employers are often aware that their actions are illegal and try to conceal what they're doing. However, working with an attorney can increase the likelihood of finding essential and strong evidence to support your case.
Q: How Much Is a Pregnancy Discrimination Case Worth?
A: Every case of pregnancy discrimination is different. The amount you're awarded after a successful claim depends on the circumstances of your case, such as:
How much evidence there is
How severe the act of discrimination was
How much income you would have gained without discrimination
Wrongful termination cases based on pregnancy may be compensated anywhere from $200,000 to $400,000. Talk with a dissemination attorney to determine the damages available in your case.
Q: How Can You Prove Discrimination During Pregnancy?
A: To prove pregnancy discrimination, an employee must prove that:
They were pregnant when the incident occurred.
State and/or federal law applies to their employer.
The employee was performing satisfactory work.
The employer took an adverse employment action, such as firing, demoting, or passing over for a promotion.
This employment action negatively impacted the employee and/or their career.
The employer took this action in part because of the employee's pregnancy or related condition.
Q: What Is Considered Pregnancy Harassment?
A: All employees are protected from harassment and have the right to a safe workplace. Harassment of a pregnant employee could include verbal, written, or physical abuse. Pregnancy harassment is a form of sexual harassment, just like harassment based on sex or gender. Pregnancy harassment may include jokes, gestures, or images relating to pregnancy.
Nosratilaw, A Professional Law Corporation, Can Advocate for Your Employee Rights
Any workplace discrimination is unacceptable. These situations can make employees feel as if they're alone, but know that the attorneys at Nosratilaw, A Professional Law Corporation, want to protect your rights and recover the damages you suffered. If you want to determine if you have a case, or need legal assistance gathering evidence or filing your claim, contact Nosratilaw, A Professional Law Corporation, today.