Glendale Whistleblower Lawyer
Working for any employer comes with a certain level of trust that the work you are doing and the services the company provides are done with integrity, strong ethics, and keeping the concerns of all their employees in mind. Unfortunately, some employers in Glendale, CA, violate local, state, and federal regulations as a way to gain an advantage or for personal gain. These unethical decisions come in many forms, but one of the most prevalent ways is through fraud or theft against the government. Many employees often do not report such findings because they fear retaliation or are stigmatized by others in the company. Employees who bring these concerns forward in what are known as "qui tam" claims are subsequently labeled "whistleblowers."
In California, however, qui tam claims are important for holding anyone who seeks to take advantage of the government accountable. At Nosratilaw, A Professional Law Corporation, our team can help employees file qui tam claims and advocate on their behalf through the whistleblower protections that make it illegal for employers to retaliate against such claims. With over 20 years of experience, our team has helped employees in all areas of employment law, and we can help you navigate the civil process to help recover owed damages.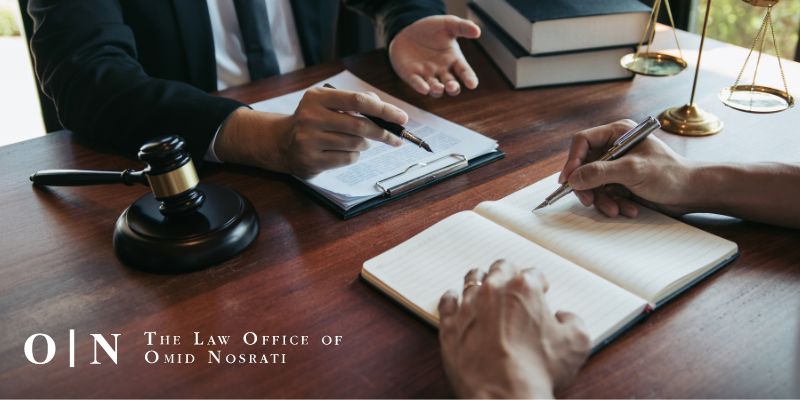 California False Claims Act (CFCA)
Many companies work with and on government-funded projects. CFCA is designed to protect the government's interests in these agreements. Under this Act, an individual or company could face financial penalties if they attempt or commit acts of fraud, theft, or embezzlement against state or local government funding. A false claim is not a legal filing, but it is a request that seeks money, property, or services that are provided either directly or indirectly by a California government agency.
The CFCA outlines specific activities that are prohibited, which include:
If an individual or entity knowingly provides a claim that is fraudulently requesting payment or approval
If an individual or entity knowingly makes, uses, or causes a false record to be made or used to falsify a claim
Conspiring to commit an act forbidden by the CFCA
Failing to deliver the entirety of money or property to which the government is owed
Falsely making or delivering a receipt that purposely misrepresents a property that is used by state or local government
Purchasing public property knowing it does not belong to the person from whom you purchased it
Benefiting from a false claim to the government and failing to disclose the claim
For false claims to be viable, there must be an act with knowledge, intentional ignorance, or with disregard for the truth.
Qui Tam Claims
The CFCA is the overarching Act that governs qui tam claims. These are claims that are filed by a private citizen who becomes knowledgeable that a violation of the False Claims Act has occurred. In such claims, a person will file a claim against the violating individual or entity on behalf of the government. Employment attorneys assist both current and former employees with these types of claims, but the filing individual doesn't have to be associated with the employer directly.
If, for example, a government-funded construction site is being worked on by several contractor companies, and an employee for one company discovers a violation from another, they can file a qui tam claim.
If the individual is associated with the employer, such as a former employee or a current employee, they are unable to file a claim until all the resources that a company offers internally have been exhausted. In addition, there is a statute of limitations for such claims. Qui tam claims must be filed:
Within six years of the CFCA violation
Within three years of the reasonable time in which an individual filing the qui tam claim discovered or should have had knowledge of the violation. It may not exceed ten years after the violation occurs.
Qui tam claims are eventually brought to the attention of the California Attorney General, who is the prosecuting attorney for the government.
As the individual who filed the claim, if there are damages awarded, you would be entitled to a share of the damages as determined by the outcome of the case and your involvement in its process.
Glendale Whistleblower Attorney FAQs
Q: What Does a Whistleblower Do?
A: Whistleblowers are individuals who provide information about violations committed by other individuals or entities against the government or consumer population. They provide the evidence needed to confirm that wrongdoing has taken place to those who are authorized to investigate the violation further.
Q: How Much Does a Whistleblower Lawyer Cost in Glendale, CA?
A: The circumstances of each case are different, so there is not a set amount for a whistleblower attorney. Generally speaking, whistleblower attorneys do not set a specific rate, but they will take a percentage of the awarded damages. For most attorneys, this percentage ranges between 30% to 40%, but you should inquire with an attorney prior to hiring one.
Q: Who Investigates Whistleblower Cases?
A: If the whistleblower case is against a federal government agency, the case will be referred to the Department of Justice for further investigation. If the case is against a state agency, the California Attorney General's office will conduct the investigation further. However, before turning over evidence to your employer or a representing agency, it is important to seek the advice of a whistleblower attorney.
Q: Are Whistleblowers Protected Under Federal Law?
A: Whistleblowers are indeed protected under federal law. The Whistleblower Protection Act is designed to protect federal employees or applicants from any retaliation that is the result of disclosing information on violations. If there is retaliation against the whistleblower, then they have the right to file a wrongful termination claim against the retaliating party.
Glendale Employment Attorney
While protections exist to help whistleblowers feel safe from retaliation, the fear alone can often hold individuals back from speaking up against harmful violations. However, if you know something, you should be able to have the confidence to speak up. At Nosratilaw, A Professional Law Corporation, our team has the experience to help you come forward and to understand your options. We advocate for employees who want to do the right thing. If you have knowledge of wrongdoing from an employer or individual against the government or another entity, contact our offices today.