Lancaster Retaliation Lawyer
Using intimidation as a method of control is no way to run a business. However, many California employers frighten their workers through threats or actual acts of retaliation. Workplace retaliation is a severe issue that impacts the rights and safety of countless employees across the state. If your employer has taken adverse action against you because you did the right thing, you should seek legal aid immediately. Talk to Nosratilaw, A Professional Law Corporation, if you are a victim of workplace retaliation in Lancaster, CA.
Why You Can Trust Our Lancaster Employment Firm
At Nosratilaw, A Professional Law Corporation, we are passionate about advocating for the fair treatment of California employees. Our team understands how daunting it can be to take a stand against your employer, which is why we're prepared to represent your rights and guide you through the employment claim process. Because our team shares more than 20 years of experience in addition to vast litigation skills, we can provide high-caliber legal aid for almost any employment law case. If you feel threatened by potential retaliation or your employer has already taken negative action against you in Lancaster, it's fundamental that you protect yourself with the help of a workplace retaliation attorney.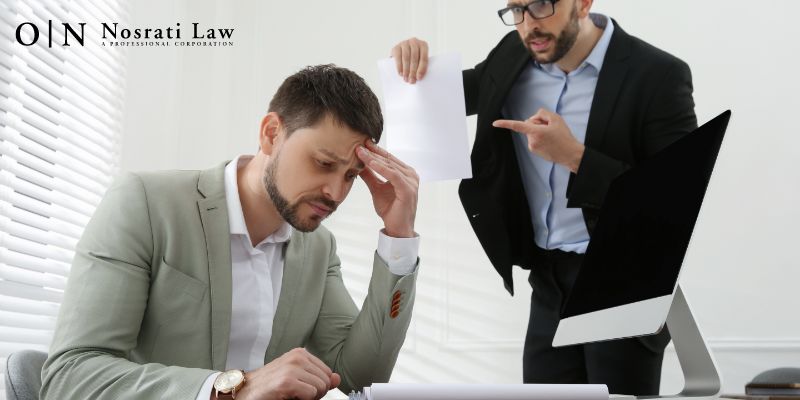 What Is Workplace Retaliation According to Labor Laws?
Workplace retaliation occurs if your employer takes adverse action against you for doing something that you are legally allowed to do. Retaliation can feel like a punishment for an employee because it often negatively affects their duties. California law makes it illegal for an employer to retaliate against an employee in a variety of protected circumstances, such as when:
An employee files any employment claim, for example, a wage violation or discrimination allegation.
An employee reports illegal activity within the workplace.
One or more employees report safety hazards or violations within the workplace.
An employee sees the rights of their coworker being violated and reports it.
Common Behaviors that Qualify as Retaliation
While sometimes, employer retaliation can be easy to see, other times, employees spend a long time wondering if they did something wrong. If you've gone back and forth wondering whether your performance is poor or if your employer is actively punishing you, consider these common behaviors that qualify as workplace retaliation:
You Were Fired After Filing a Claim: If you file a claim against your employer or report their harmful activity and are fired soon after, this is known as wrongful termination and is often an act of retaliation.
Your Hours Were Reduced: Sometimes, employers will attempt to sneakily punish their employees by reducing their hours after they file a claim. This qualifies as retaliation and violates your rights.
You Were Demoted After Reporting Your Employer: If you did the right thing by reporting your employer for a violation such as harassment or discrimination and then were suddenly demoted, they are most likely retaliating.
Your Employer Is Threatening or Assaulting You: Threats, verbal abuse, and physical assault are all unlawful behaviors that are also a form of retaliation. Your employer has no right to make you feel unsafe for engaging in legally protected activities.
Keep a Lancaster Retaliation Lawyer by Your Side
If you're a Lancaster employee looking to file a retaliation claim against your employer, it is crucial that you do so with a skilled employment lawyer by your side. Retaliation claims differ from other kinds of employment claims because there are clear issues between the employer and the employee involved. If your employer has already retaliated against you, you can assume that they will do everything in their power to fight your claim. Because of the difficulties you may face in litigation, working with an experienced employment lawyer is the smartest way you can protect yourself during a Lancaster retaliation case.
Lancaster, California Retaliation Attorney FAQs
Q: How Long Do You Have to File a Retaliation Claim in California?
A: While most employment claims only have one statute of limitations, retaliation claims have a few exceptions. If you are filing a general retaliation claim in Lancaster, you have one year from the date that the incident occurred to take legal action. However, if your employer retaliated against you because you reported an Equal Pay Act violation, you have two to three years. The other exception is for whistleblowers who report daycare violations. In these cases, you only have 90 days from when the incident took place.
Q: How Do You Prove that Workplace Retaliation Took Place?
A: The most important thing you can do when proving retaliation took place is establish a timeline. You need to identify the exact date that you engaged in a protected activity and then mark when your employer became aware and started treating you poorly. If you and your lawyer can prove that there was a direct correlation between your protected behavior and your employer's actions, you have better chances for a successful claim.
Q: Where Do You File a Retaliation Claim in California?
A: All of California's employment claims are handled by the Labor Commissioner's Office (LCO). This means that you must obtain the proper paperwork from the LCO and file it with them, not your local government. After you file your retaliation claim, the LCO will either validate it and allow it to move into settlement stages, or your case will be dismissed.
Q: What Should You Do if You Want to File a Claim but You Don't Want to Lose Your Job?
A: No employee should have to decide against holding their employer accountable because they are afraid to lose their job. Working in an environment that is filled with constant threats is unfair to any employee, which is why you should always stand up for yourself. If your employer attempts to fire you because you filed a claim against them, you may be eligible for compensation and damages as a result.
Your Lancaster Retaliation Team
Employers who treat their workers poorly should always be held accountable. Whether you were fired after reporting discrimination or your hours were reduced because you announced a pregnancy, you can take action by filing a retaliation claim. Reach out to Nosratilaw, A Professional Law Corporation, to learn about your options for a Lancaster retaliation claim.