Long Beach Racial Discrimination Lawyer
In today's society, many people are surprised to learn that discrimination based on race or ethnicity still occurs. However, many people experience race discrimination every single day. Although California employment law aims to stop discriminatory practices, many workplaces still operate with outdated or racist practices.
Whether you are facing wrongful termination, have been passed up for a promotion, or have experienced workplace harassment based on your race, it is important to understand that you have rights. With the help of racial discrimination attorneys, you can prosecute your employer to the full extent of the law for engaging in discriminatory practices.
Unfortunately, our law firm has seen a lot of workplace discrimination cases based on race. In each of these cases, we work tirelessly to earn a settlement for our clients that is worthy of the suffering that they have endured. If you have experienced discrimination in your Long Beach, CA workplace, we are here to help you seek justice.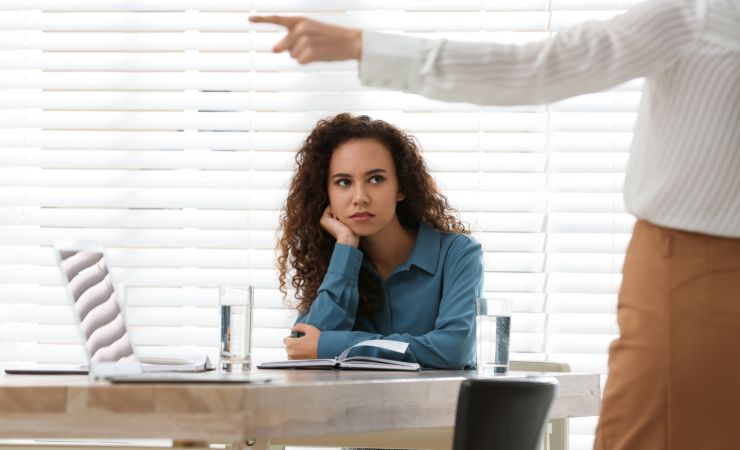 Nosratilaw, A Professional Law Corporation: Your Long Beach Racial Discrimination Attorneys
For many years, our firm has been helping individuals who experience discrimination or wrongful termination based on their race. We understand the gravity of these situations and how poorly they reflect on everyone when racist practices remain unchallenged. This is why we work extremely hard to hold racist workplaces accountable for their discriminatory actions and aim to achieve appropriate settlements for those who have suffered.
Our focus at Nosratilaw, A Professional Law Corporation has always been compassion. Although some firms focus on profits and high-profile cases, our aim is to make our community more equitable for all. We will be patient, sympathetic, and understanding of your situation, and work to make you feel heard and comfortable when you work with us.
Although we care deeply about your comfort, we do not have patience for those who are comfortable with racial discrimination. We can work tirelessly to build your case and be relentless in court. No one should be able to engage in discrimination and get away with it. We are working to make sure that this is true in California.
What Is Racial Discrimination in the Workplace?
Workplace discrimination occurs when an employer, manager, or person of authority treats someone differently or negatively because of a protected trait. Protected traits include:
Race
Gender or gender expression
Sexual orientation
Nationality
Ethnicity
Age
Ability
Racial discrimination occurs when poor treatment is based on a person's race or skin color. An employer is expected to treat all their employees fairly and give everyone a chance based on their abilities and attitudes rather than the color of their skin or their cultural background. If an employer fails to do this, it is considered discrimination.
Racial discrimination can appear in several different ways. Some common examples include:
Passing over a qualified applicant because of their race or perceived race.
Failing to promote a deserving employee due to their race.
Demoting or firing someone who is performing well and meeting expectations because of their race.
Leaving members of a certain race out of meetings, memos, or other necessary information.
Harassing or making fun of a person because of the color of their skin.
Making inappropriate jokes about race.
There are many other situations in which racial discrimination can arise in the workplace. If you believe that you are being treated differently at work because of your race, you may be able to take action against your employer or the offending parties with the help of a Long Beach racial discrimination attorney.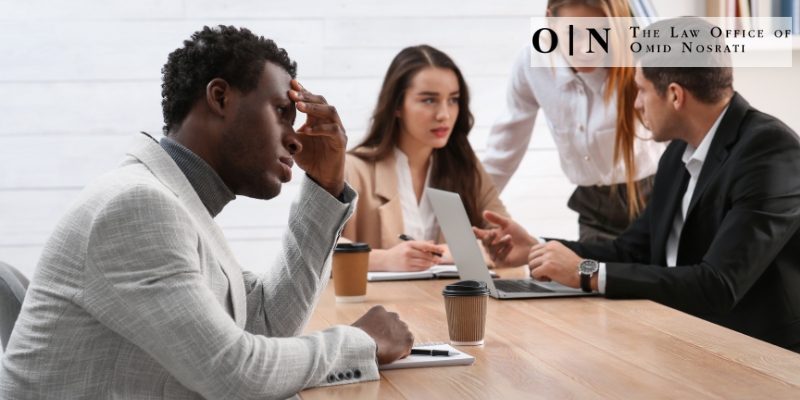 Why Do I Need a Racial Discrimination Lawyer in Long Beach, CA?
Because there are laws against racial discrimination, employers are often covert in their tactics. This means that it may be difficult to assemble the necessary evidence to build your case. Without the help of an attorney, you may not be able to craft a convincing argument for the courtroom. If there is not enough evidence to support your claim, you will lose your case. With the help of an attorney, you can better assemble evidence to support your claim and win your case in court.
There is a lot at stake in racial discrimination cases. Some of these claims make national and international headlines. In some circumstances, the results of these cases inspire new legislation that supports racial equity. If you win, many people could be positively impacted for generations to come. This is not to mention the sizable settlements that can occur if you win.
However, racial discrimination cases are difficult to prove. You need the help of a qualified employment law attorney if you wish to win your case.
Filing Your Racial Discrimination Claim
If you believe that you have a racial discrimination case, you need to find an attorney right away. One of the first steps, in many cases, is to file a claim with the EEOC, or Equal Employment Opportunity Commission. In most situations, you have only 180 days to file a claim with this department.
You also need to move quickly to preserve evidence. If you wait, evidence could be lost, destroyed, deleted, or otherwise compromised, and you might lose your case.
Assembling Evidence
Evidence is key for your racial discrimination claim. Without evidence, you will be unable to prove your case to the jury. However, evidence can be difficult to find if your employer knows how to hide their discriminatory practices.
The best thing that you can do if you believe that your employer is discriminating against you is to keep a record of all interactions with your boss, managers, and other employees. Keep all emails, memos, and letters from management, even if they do not seem to contain relevant information. Take notes during meetings and follow up any one-on-one meetings with a summary of what was discussed. This provides a more accurate trail of evidence that your attorney can use to build your case.
If you are terminated or demoted, ask to see your employee file. If there is cause to fire an employee, their file will likely be filled with infractions, notes about behavior, and other indicators of an underperforming individual. If your file does not contain these things and you are fired or demoted anyway, you may have a wrongful termination case.
Although it may be unpleasant to document discrimination, it is important that you do so. Your case cannot go far without documentation and evidence.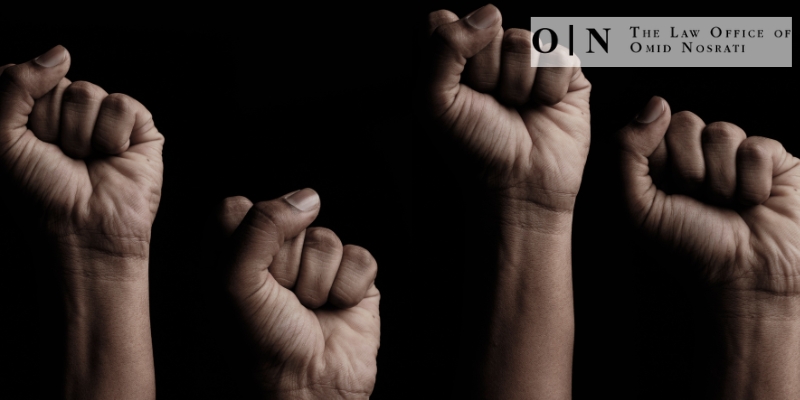 Long Beach Employment Law FAQs
Q: How Long Does It Take to Win a Racial Discrimination Case?
A: The amount of time it takes to win your racial discrimination case varies depending on the circumstances. Some cases take several years to settle, while others only take a few months. When you have a preliminary meeting with our firm, we may be able to give you an estimate of how long the case will take. However, court schedules and delays sometimes play a role, and factors outside of your control can drag out the process.
Q: What Is the Average Settlement for Race Discrimination?
A: $40,000. However, some cases earn upwards of six- or seven-figure settlements. The amount you earn will depend on the damage that the discrimination has done, the pervasiveness of the problem, and how much your attorney can prove that the discrimination was intentional. Small infractions, though still deeply offensive and wrong, are less likely to win a large settlement than patterns of behavior that have been going on for years.
Q: What Makes a Strong Retaliation Case?
A: Retaliation occurs when an individual participates in a protected activity, such as reporting sexual harassment, and an employer takes action against them as a result. This is a type of discrimination, and it is illegal. A good retaliation case has evidence that:
The victim experienced harassment or discrimination based on a protected trait.
The victim did a protected activity, such as reporting the event.
The employer treated the victim differently as a result.
Q: What Evidence Is Needed for Discrimination?
A: Your testimony is one of the most essential pieces of evidence in your discrimination case. Memos, emails, letters, employer evaluations, and employee records are also extremely helpful in these cases. There is not necessarily a list of required evidence for these cases, but the more you can gather, the better your case will be.
Q: Can My Employer Fire Me Without Cause?
A: Yes. California is an at-will state, meaning that employment is voluntary and either the employer or the employee can terminate it at any time without cause. This is part of why creating a discrimination case is so difficult. In some instances, employees are fired without cause and without racial discrimination as well. This can be confusing and can create significant tension in some claims.
Contact Nosratilaw, A Professional Law Corporation
If you are facing racial discrimination in the workplace, you are not alone. Our firm is here to help you navigate this sensitive and hurtful situation and develop a case that accurately represents what happened to you. You can trust us to listen and provide compassionate, reliable legal advice.
To begin building your case, or for more information about what we do, contact Nosratilaw, A Professional Law Corporation online today.