What Are Some Examples of Workplace Discrimination in California?
Posted on March 15, 2022 | Employment Law,Workplace Discrimination
Employment attorneys in California handle many different types of cases related to discrimination in the workplace. Some of these cases involve wrongful termination due to the employee's gender or gender identity. Others may be circumstances in which a whistleblower was subjected to workplace retaliation or unfair disciplinary actions. These examples barely scratch the surface of the vast pool of employment discrimination cases.
The Civil Rights Act of 1964 paved the way for workers to be able to seek justice when they experience this type of abuse or harassment. The act prohibits employers from discriminating against an employee or job applicant based on age, national origin, color, race, sex, religion, or disabilities. It is important to note that some forms of workplace discrimination may be indirect or subtle. Microaggressions may be difficult to prove, but they are, nonetheless, just as harmful.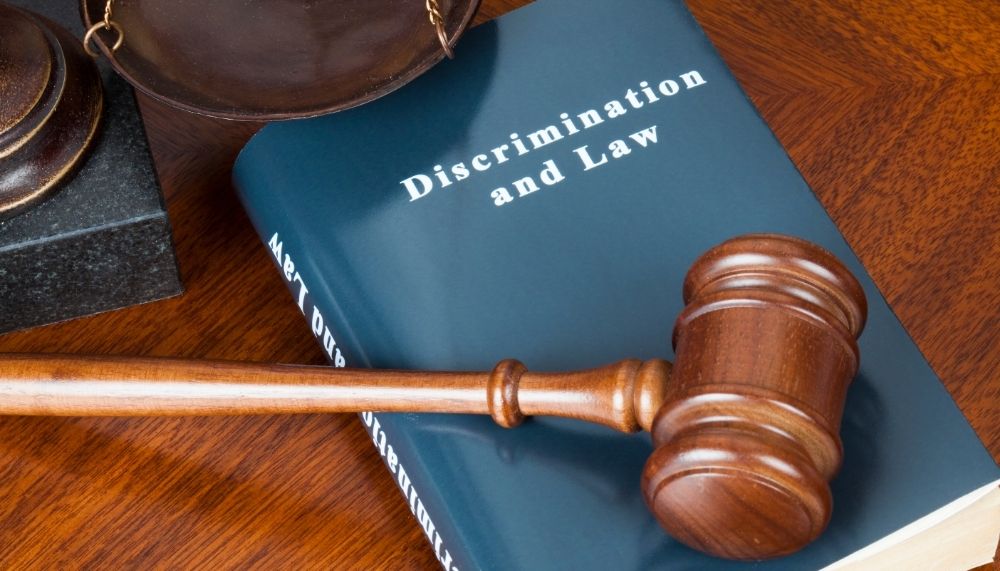 Examples of Workplace Discrimination in California
Some of the workplace discrimination cases in California include the following.
Racial discrimination. Employees across the United States are protected from discrimination due to their race. This type of prohibited activity may occur in company pre-employment processes, as well as once an individual is employed by the business. In many cases, employers discriminate against race by failing to offer a job position to employees who aren't in a particular racial group or refusing to employ racially diverse workers.
An individual may be the victim of discrimination based on race if they have experienced severe repercussions including, but not limited to wrongful termination, for actions coworkers of other races engage in and face no punishment for. Another type of racial discrimination is a scenario in which an employee produces quality work equal to that of their colleagues but are told their work is not up to par with no further explanation. This form of discrimination in the workplace includes any type of oppression, harassment, or retaliation based on a worker's race.
Age discrimination. It is unacceptable for an employer to take any negative actions against an employee on the basis of their age. To prove this type of discrimination, the employee may need to do some investigating into whether younger employees are performing as well as them or suffering similar repercussions. If the employee is performing as well or better than younger employees, they may have grounds for an age discrimination case. Consider the following example.
An employee who works for a company facing difficult times may be informed of benefit cuts and layoffs. If that worker is one of the older employees at the company, management may inform them of the elimination of their position, with no regard for the fact that their family depends on their employment and benefits. This employee should look for signs of discrimination, such as retention of younger employees while coworkers in their age bracket are being cut.
Gender and sex discrimination. Although any type of discrimination based on gender is forbidden, there are a variety of ways this protection may apply. For example, it may seem obvious that an employer cannot subject a female worker to negative actions based on her gender. Still, it is vital to note the employer is also prohibited from discriminating against her due to the fact that she may become pregnant and request time off to care for her child or herself. Such a circumstance can be illustrated in this example:
A female job applicant is highly qualified for the position she is being interviewed for.  During the interview, the manager asks what her future plans are. She may explain that she is currently focused on her career, but her future goals include getting married and raising a family. If she is turned down for the position, the employer's decision may be rooted in the belief that her wishes to become pregnant in the future could result in the need to grant her time off for maternity leave.
National origin discrimination. An employer may not discriminate against an employee or job applicant who is not a United States native. As long as the individual has the legal right to work in the U.S., they are afforded all the protections against discrimination as other employees.
If a job applicant from another country has been living in the United States and has legal authorization from USCIS to work in the country, an employer may not refuse to hire them simply because they are from a foreign country. Some employers are brazen enough to tell job applicants they only hire Americans, which is a clear and valid cause for a discrimination case.
FAQs About Workplace Discrimination Examples
What is considered discrimination in the workplace in California?
In California, discrimination in the workplace involves treating an individual less favorable or differently than other employees due to factors such as veteran or military status, sexual orientation, gender expression, gender identity, gender, national origin, genetic information, medical condition, marital status, disability, denial of FMLA leave, religious creed (including grooming practices and religious dress), color, ancestry, age (over 40), pregnancy, childbirth, sex, race (including hairstyle and texture), and other characteristics protected by local, state, or federal law in terms and conditions of employment.
What are some examples of workplace discrimination?
Discrimination in the workplace occurs when employers engage in negative employment actions rooted in employees' life statuses or characteristics. Some of the common reasons for discrimination include disabilities, religion, age, sex, and race. Title VII of the Civil Rights Act of 1964 makes any type of harassment or negative actions illegal when at work.
How do I prove discrimination at work in California?
An individual must collect evidence to prove they suffered actions such as failure to hire, termination, or demotion at work as a result of being a member of a protected class. Such evidence may include:
Statements from witnesses who have heard management suggest that their reasons for such actions were discriminatory
Physical evidence such as documents, social media, and emails in which management indicates they are taking negative action based on discrimination.
How common is workplace discrimination?
Many businesses are working to improve inclusion and diversity, but a 2020 Glassdoor survey indicated that 3 out of 5 workers in the United States have experienced or witnessed discrimination. Findings included the following:
45% of those who responded in the U.S. indicated ageism as the reason for discrimination
42% of employed American adults have witnessed or experienced racism in the workplace
61% of employed adults in the U.S. have witnessed or experienced some type of workplace discrimination
Place Your Trust in Experienced Hands
If you have suffered discrimination at your place of employment in California, it is not unusual to wonder where to turn. Discrimination victims often have trouble trusting others with a case that may affect their livelihood. At Nosratilaw, A Professional Law Corporation, we have built a reputation based on honesty, integrity, and loyalty to our clients. Contact us today to find out how we can help you.